Wildlife Watch & Special Offers
Wildlife Sightings

A large flock of Oyster Catchers were seen on the 6th of August 2016 on the sandy part of Mill Shore beach.
Two red deer were seen on the hill above Mill of Nethermill 4th August, 2016.
Two Badgers were seen the other evening fighting near Nethermill bridge. An amazing sight to see!
Resident herons have been seen often in the mouth of the burn and Nethermill bridge.
Dolphins and seals have been seen frequently in Nethermill Bay this summer – 2016. Guests were delighted when they saw the dolphins junping out of the water.
Dolphin have been active in Nethermill Bay and were seen by guests on 5th June and 14th June, 2015.
Puffins were spotted near Pennan cliffs mid May, 2015
Gannets can be seen diving in Nethermill bay on 18 August, 2015.
A pod of Orca were spotted off of Rattray Head and also Fraserburgh on 20th May, 2014.
On 17 August, 2013, three basking sharks were sighted in Nethermill Bay.
A large otter was seen in Tore Burn near The Mill on the 13th August, 2013.
A large pod of Dolphins were spotted off of Nethermill Bay in early morning of 4 June, 2013. The dolphins were seen playing and jumping out of the water for nearly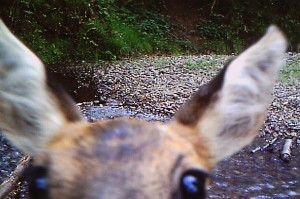 45 minutes !
Late May 2013, our friend and guest Andrew McCubbin had the rare opportunity to see a Red-throated diver in Nethermill Bay.  He also saw a Raven at Troup Head.  He surveyed the area for bird life, and counted over 60 species of bird life in this immediate area.
Dophins were seen twice in Nethermill Bay on the 21st May, 2013.
Dolphins were seen in Nethermill Bay on 22 April, 2013
Guests staying in Tore View saw a Scottish Wildcat in early March 2013.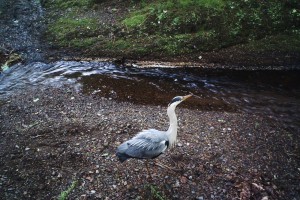 While walking in the Tore of Troup, guests in The Neuk saw deer and a Scottish wildcat on 19 Feb. 2013.  It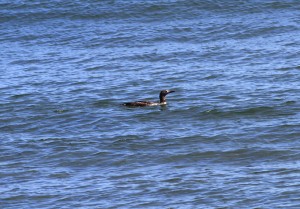 made their day! 
Millie the baby seal was a Christmas present for everyone at Mill of Nethermill.  She was a beautiful baby seal that was left by her Mum to recooperate from the winter storms.  We all witnessed recooperation and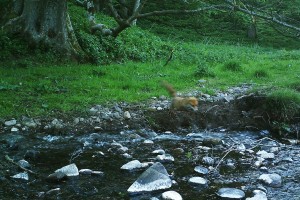 eventual Bon-voyage on the 5th Jan. 2013.
Dolphin again were spotted by our guests on 14 September in Nethermill Bay. Our guests also caught two nice lobsters and several crabs in their creel on the same day.
Three dolphin were seen jumping in Nethermill Bay on 09 Sept.2012. Also two pollock were caught off the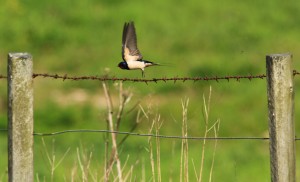 pier.
We spotted the Scottish Wildcat again on Sat. 7th July, above The Mill. What a sight to see !
12 dolphins were spotted from Ft. Fiddes in Nethermill Bay feeding on 4 July. One was seen jumping out of the water.
Last evening, 2 July, Seals were seen popping their heads up in Nethermill Bay.
Six Dolphins were seen in Nethermill Bay the morning of 2 July 2012.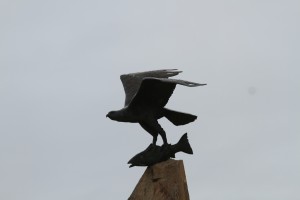 North 58 Sea Adventures saw a Humpback whale last weekend, 30 June 2012, near Troup Head.
Scottish Wildcat sighting !  Last night, 30 June 2012, a female Scottish Wildcat with 5 or 6 kittens were seen at Mill of Nethermill. They are very rare and there are only about 400 Scottish Wildcats in all of Scotland.
Seals have been sighted on 29 & 30 June in Nethermill Bay.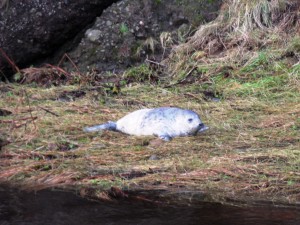 Guest in Shore View saw four dolphin this morning, 20 May 2012, in Nethermill Bay.
We now have a resident deer that comes down to drink out of the burn, and eat from our veg patch!
The swallows have finally arrived back at Mill of Nethermill on 10 May 2012.
A family staying at Tore View were out for a walk today (10 April, 2012) at Tore Glen and saw a deer and also a fox chase a crow. They loved it !
The first lobster was caught at Millshore today (9 April, 2012), it was keeper size. They also caught a nice size cod in the creel !
Two fisherman caught 4 flatfish at Millshore on 9 April, 2012. Two of the fish were keepers !
Three tourists from France sighted either a dolphin or a minke whale directly off the beach at Millshore today 13 November 2011.
The baby seal is becoming a regular to Millshore.  Our grandaughter and I saw the seal on Saturday 12 November 2011.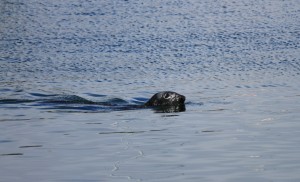 The baby seal was seen again on the beach 11 November 2011.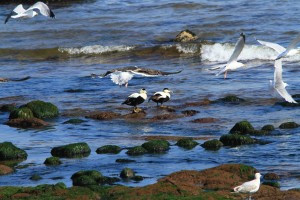 A baby seal was seen on Millshore on 10 November 2011.
Ian Page of North 58 and the RSPB were instrumental in the dramactic rescue of a rare Sea Eagle on 1 Nov. 2011 near Mill of Nethermill and Pennan. Click here to read more about the rescue.
Gannets spent the whole day on 27 October 2011 diving for fish in Nethermill Bay.  It was quite a site for all to see.
A Minke whale was spotted in Nethermill Bay on 14 August 2011.
An Otter was seen by everyone at Mill of Nethermill (even Me!) in the Tore Burn on 8 Sept. 2011.  He has been named Oscar the Otter, and we will let you know when we see him again.
The Swallows are away now.  The last one was seen 9 Sept. 2011.